Date ideas in the summer are so easy and enjoyable. Rooftop drinks on a patio? Yes, please. Outdoor concert? I already know what I'm wearing. Walking along the waterfront? So romantic. But when it's cold out, all of those ideas are basically out of the question because it's… well, below zero, and it's hard to make the "my lips are turning blue" look appear cute to your date. There is, however, a plus side when it comes to going on dates in the winter: Everything is a little bit more romantic and cozy. And contrary to popular belief, there are a lot of date ideas that you can plan that are inside and yes, even outside.
So whether you've been with your partner for a long time and you're looking to switch up date nights this season or you're not sure what to do on a first date during colder months, here are 12 date ideas that both you and your date will love—no matter how miserable it is outside.
1. Head out on a hike
It might be cold as heck out, but hiking when it's cold out is actually super romantic. Bundle up with your partner, breathe in the crisp fresh air, and take a scenic hike through nature. Not only will you see some gorgeous views, but you'll both benefit from the endorphins of the hike. We recommend packing some snacks in your bag so you can stop and enjoy the scenery at the top before heading back down. (If you aren't into hiking, snowshoeing is a great alternative!) Grab a coffee or tea on your way home to enjoy a relaxing night in after your adventure.
2. Hit the slopes to ski or snowboard
OK winter athletes, where are you at? Now is the time to hit the slopes and show off your skills to your date. When you're done, head into the lodge to enjoy a warm après-ski cocktail (or hot cocoa) together. (As someone who doesn't ski or snowboard, it's OK to skip the slopes and go straight to a lodge for cocktails and people-watching with your date too!)
3. Enjoy a movie night in
Enjoy a movie night at home when it's far too cold to venture out. Simply pick a movie you'll both enjoy, set out some yummy snacks, and cuddle up on the couch together to watch a classic or a new movie you both haven't seen before. Bonus points if you make a cozy setup in your living room with extra blankets and pillows.
4. Go sledding
Is there a big hill in your town that you always see kiddos sledding down? Well, this activity isn't just reserved for them! Grab some sleds, put on your warmest scarf and beanie, and head to the hill for one of the most fun and playful date ideas that will have you laughing the entire time.
5. Go to the aquarium
It's a little too cold to visit the zoo, but it's the perfect time of year to head to the aquarium. Spend an afternoon exploring an aquarium with your date to learn about all the cute and interesting animals inside like sea otters, penguins, sharks, and stingrays. There will be so much to see and do while you're there that there will hardly ever be a lapse in conversation.
6. Attend a paint night
Don't worry, you do not need to be good at painting to enjoy this! Find out what painting classes are available in your area (Painting with a Twist is located in most states!) and mark this unique date night in your calendar. Sip on your favorite drink, eat some snacks, flex your creative muscles, and leave with a masterpiece (or at the very least, some good memories).
7. Set up an indoor picnic
Unless you live in a warm climate, an outdoor picnic is basically out of the question right now, so head indoors and set up a picnic at home. Prepare a cheese plate, grab some wine, put on some music, and lay out a blanket in your living room to sit on. And if you want to add a touch of romance, light some candles too.
8. Go ice skating
Ice skating is the ultimate date idea this time of year. Think about it: You always end up holding hands while ice skating—especially if you or your date isn't so good at it. And this date idea isn't reserved for those in cold climates. If you live somewhere warm, check to see if your local hockey rink has an open skate.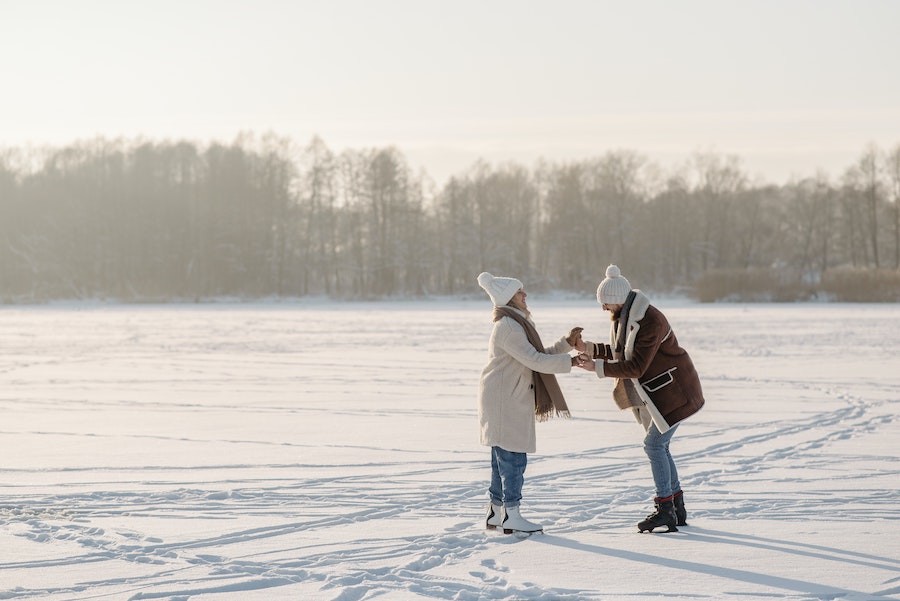 9. Go bowling
Escape the cold weather and head to the bowling alley! Almost no one is actually that good at it (in my experience), so this is a no-pressure, fun date idea that you can do during the day or at night. Bowl a few games and then play some of the arcade games to round out this lighthearted date.
10. Tour a brewery or distillery
Nothing will warm you up quite like enjoying a few drinks at a brewery or a distillery, but to make this date even more interesting, sign up for a tour of the facility. Most places offer free tours, but if not, tickets are typically pretty affordable. You'll learn all about the process of making the beer or spirits and the history of the company you're visiting, and you might even get some free drinks out of it at the end too!
11. See a show
Arguably the best time to see a show (of any kind) is in the winter. Whether you choose to head to a theatre in a fancy dress or go to a comedy show in a casual yet cute date night outfit, you'll have the opportunity to enjoy each other's company and the entertainment, too. This is the perfect date idea if you're just getting to know someone since there is less pressure to keep the conversation flowing because you'll be watching the show.
12. Cook a cozy dinner at home
Not only are dinner reservations harder to get in the winter (due to the holidays and indoor seating capacity) at most restaurants, but sometimes it's just far too cold to even leave the house. Instead, cook a cozy dinner at home with your date. Choose a meal that will keep you both busy (one is chopping vegetables while the other is prepping a sauce), pour some wine, and put on some music. You will (hopefully) enjoy the process of cooking together and be able to enjoy the fruits of your labor at the end.