Leicester are heading into the new WSL season with a new invigoration. Their first two seasons in England's top league were fraught with uncertainty, including managerial changes and relegation battles.
But there is an air of optimism around the club this summer. A run of good form after the winter break saw them secure their WSL status on the final day, and if the Foxes had their way, they would have kept going such was their momentum.
From January until the end of the season, Leicester won five and drew one of their final 13 WSL games, having won none up until that point.
Under experienced WSL manager Willie Kirk, the Foxes overturned a seven-point deficit to pull off the greatest of escapes – something that had never been achieved in the league before.
"We finished the season strong, we overturned the seven points which was amazing, we defied all the odds," Leicester forward Hannah Cain told Sky Sports.
"The last five months of the season were almost like our start so when it stopped, it was a case of 'let's just keep going'. For me personally, I'd only been back playing since January so I was ready and raring to carry on going.
"It's been a tough few seasons, finding our feet and we're a new team in the WSL. It's hard coming into the league, it's arguably the best league in the world."
Why January uptick was no coincidence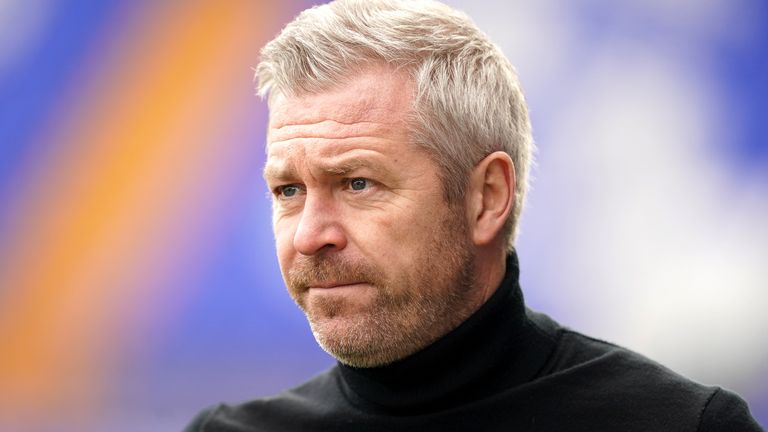 Their feat over the final four months of the 2022/23 was mightily impressive given many had written them before the end of 2022. And the uptick in form was no coincidence.
Kirk moved from director of football to first team manager in November 2022 after Lydia Bedford had failed to pick up any points in the opening six games of the season.
While Kirk oversaw three further league defeats as Leicester sat bottom of the WSL with no points at Christmas, the six-week break saw Kirk and his staff set the Foxes back at zero.
Looking back on last season, Kirk told Sky Sports News: "Last year was a huge learning curve for everyone, myself included.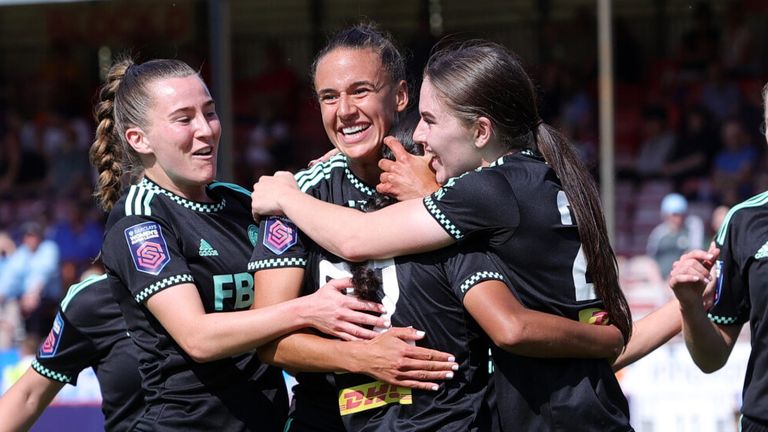 "It's really important to start well in the WSL because if you don't, you can quickly get into a rut that's difficult to get out of. With the quality of the league, it's unforgiving so confidence can play a big part.
"It's funny because there was pressure and there was no pressure at the same time. We put pressure on ourselves because we wanted to remain in the league but the outside noise was that Leicester were down and that was it.
"There was no pressure externally, but internally, we knew we wanted to stay in the league and we knew what our long-term ambitions were.
Highlights of the Women's Super League match between Brighton and Leicester

"If we weren't in the league, those long-term ambitions wouldn't be adhered to. It was a nice challenge to prove people wrong, but I think the pressure this year will be on how much we can improve.
"As a club, we've got a journey we want to go on over the next three to five years and that means progression every year.
"We're looking forward to the season getting started and picking up points as soon as possible and then seeing where it takes us. But we certainly don't want to be in a relegation battle and I believe the squad we put together means we won't."
How January arrivals galvanised the Foxes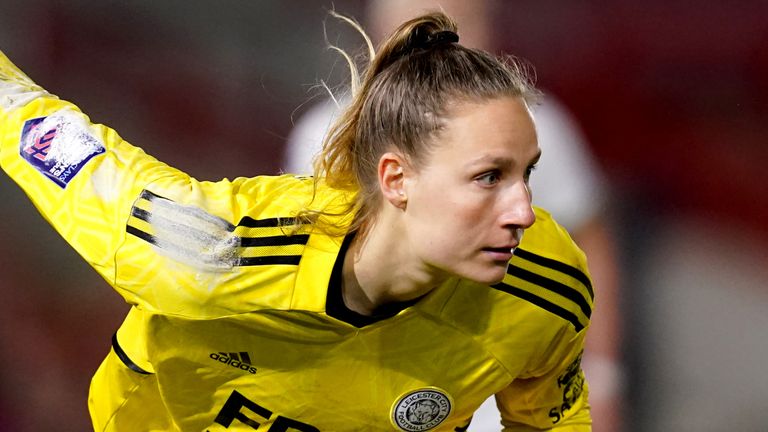 Kirk also had a January transfer window to add to his squad, with a string of shrewd acquisitions proving to be the difference. This included international experience in Courtney Nevin and Remy Siemsen, while England youth midfielder Ruby Mace also joined on loan from Manchester City.
But the standout signing – the player that ultimately saved Leicester from relegation – was goalkeeper Janina Leitzig. Initially joining on loan from Bayern Munich, the 24-year-old signed permanently with the club earlier this summer.
As was true eight months ago, it could prove to be their most vital bit of business.
Leitzig impressed in her first Leicester game, keeping a clean sheet against Brighton. She went on to keep clean sheets in a win against Liverpool and a goalless draw against Everton in her next four games, and despite losing 2-0, was commended for her showing against Manchester City.
Despite playing for just half a season, she finished with the second highest number of saves (66) and shots saved inside the box (48) in the WSL and was top for crosses caught (18).
Reflecting on her Leicester journey so far, Leitzig told Sky Sports: "I really enjoyed the last half of the season last year. They convinced me to stay, they fought really hard and I enjoyed my time.
"We have a really good squad, really good facilities, a lot of potential in the club and I believe in the journey so that's why I stayed.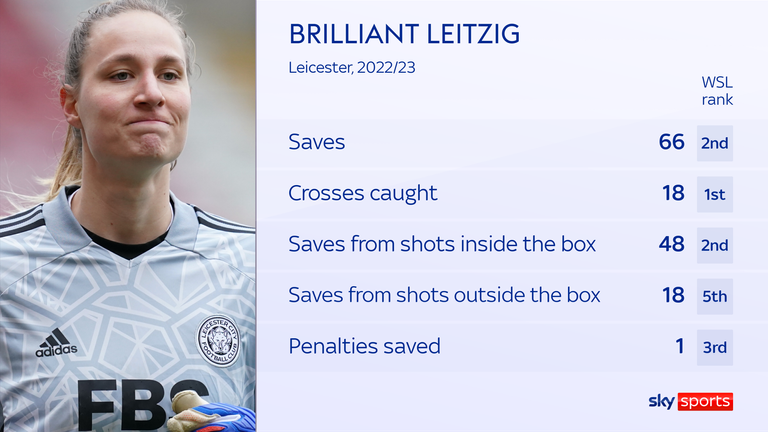 "It's important to take a lot of responsibility as a goalkeeper and be loud on the pitch with a lot of confidence. The last season, it really helped me there because I know I have a really good team and staff around me, a really good club who trusts in me and that will be really important for the next season.
"My move in January was really spontaneous and the whole half year, it felt like home but I didn't have my own accommodation and I didn't know if I was staying.
"Now I have that, I can look forward. I expect a lot from the team because we have a lot of new faces and we are really excited to get started."
A busy summer for Leicester reset 2.0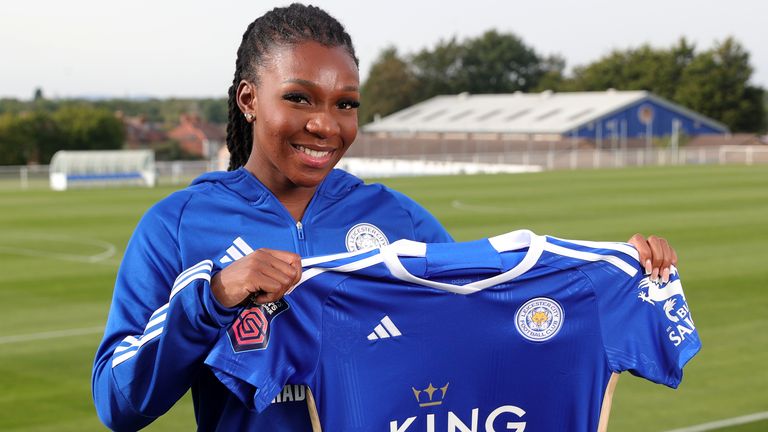 It is now time for reset 2.0 for Leicester, with a long four and a half month summer break allowing Kirk to mould his team further as they prepare for another gruellingly competitive WSL season.
It began with an exodus of 12 players at the end of their contracts, including midfield stalwart Ashleigh Plumptre, who has since joined Saudi Arabian side Al Ittihad.
But the incomings have been impressive, including Janice Cayman and Julie Thibaud alongside the permanent signings of Leitzig and Nevin.
But for a team that scored just 15 league goals last season – eight fewer then eventually-relegated Reading – Leicester needed goals and raided the Royals for exciting forward Deanne Rose.
She had not quite had the desired impact at Reading, scoring just four goals in the 2021/22 season before a ruptured Achilles in the opening WSL match of the last campaign saw her sidelined for months.
However, after representing Canada at this summer's Women's World Cup, Rose is ready for a fresh start at Leicester.
She told Sky Sports News: "I'm excited just to be able to play football again, it feels like a privilege.
"The thing about Leicester over the last couple years, you can see the ambition of the club specifically. You can see that they're trying to grow and invest and that's somewhere where I want to be because I'm trying to grow as a player so I think it just fit.
"I think the team is starting to gel. I watched some pre-season games, the quality of some players was shining through. Coming into the last few weeks into the season, they'll be important."
Deanne Rose on playing for Canada at the Women's World Cup…
"This World Cup was so much more inclusive than the last, you can tell the women's game is catching up.
"I love playing for Canada, I'm so passionate about it so it was nice to be with the team representing that country.
"It's disappointing how far we made it in the tournament, but it's football and we have to grow from it and look forward to qualifying for the Olympics."
Kirk also revealed that he tried to sign Rose while manager at Everton, and highlighted the qualities that make the 24-year-old forward so sought after.
He explained: "I watched her quite a bit when I was at Everton and I wanted to take her there at one point, but it never happened because of the make up of our squad at the time and it wasn't an essential signing for us. But she is an essential signing for Leicester.
"She's a game changer. She can win you games with her pace, her ability to play on both sides of the pitch, she can play through the middle, she scores goals, she creates chances. She has so many attributes.
"I've also done my homework on finding out how good of a person she is, I spoke to her national team manager, Bev Priestman, and she ticks all the boxes and I'm excited to work with her."
Leicester players ambitious ahead of the new season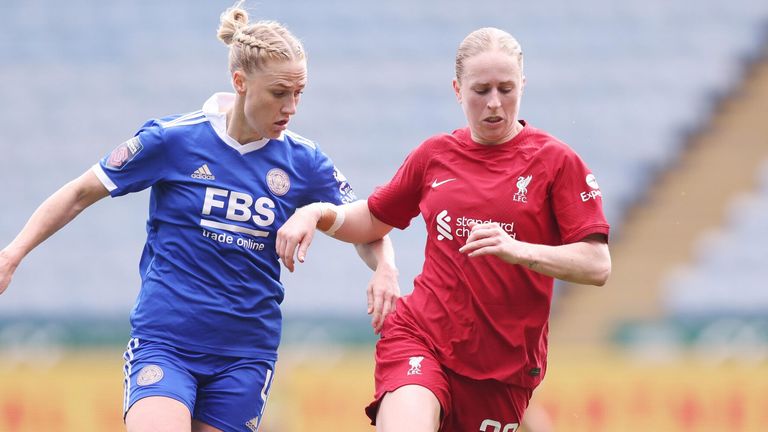 Leicester are now looking to the new season, armed with an experienced manager plus a talented and hungry squad who want more than relegation battles.
Kirk added of the upcoming campaign: "We've bought in a lot of good players… there are a lot of new players and we have a lot of information to give them in terms of the way we play and just trying to get them settled in.
"Hopefully the one thing the players will echo is we've tried to really make them feel at home as quickly as possible, look after them and make sure we're looking at the person, not just the footballer."
While Kirk would not be drawn on where he predicts Leicester will finish this season, Leicester left-back CJ Bott demonstrated the ambitions of the team, saying: "We've made some awesome signings. Our club have got such great people and players through the door and we've really gelled as a team.
"I think we're all very like-minded individuals who are dead set on one goal and that's coming in the top six and solidifying ourselves in the league and changing the name of Leicester in the WSL as well so we're excited to get going."
New Zeland international CJ Bott on Women's World Cup…
"I hear of the impact a lot more from other people telling me because I'm not there at the moment, which is a bit unfortunate to not be there for the aftermath of the World Cup.
"But it does sound really exciting and already, registrations are rolling through the door of girls and boys who are keen to start football and it's really exciting.
"It definitely has changed the face of women's sport, and particularly football, in New Zealand which is so exciting and it has been a long time coming."
The Foxes begin the 2023/24 season at Bristol City, who now call Ashton Gate home on a full-time basis. Only the Robins and Leicester play permanently at their men's equivalent stadiums, which Cain reflected: "It just shows where the game is going.
"A couple of years ago, no women's team would've had an opportunity to play at a men's ground. Although we say that, to us it's not, it's just our ground. When we came into the league, we still played the majority of our games there as well.
"For us, that's the standard now and if we can be the team that pushes other clubs to do that as well, that's a great thing."
Leicester are leading the way in the area of women's stadiums, and have certainly caught the eye with impressive additions this summer. Now, they will be hoping to continue their momentum from last season as they look to become a formidable WSL prospect.
How to follow the WSL on Sky Sports
Follow all the latest from the Women's Super League across SkySports.com and app, including exclusive features and interviews, plus dedicated live blog coverage and in-game clips from games live on Sky Sports.
You can also watch free match highlights from every WSL game this season on Sky Sports' digital platforms and YouTube channel, while all matches will continue to be shown on both Sky Sports Football, as well as on Sky Showcase, available in all Sky homes, even without a Sky Sports package, giving the competition greater visibility.
Alongside coverage and visibility for the league across all Sky Sports' main social media channels, the bespoke Twitter channel @SkySportsWSL will continue to be the home of all Barclays FA WSL content on Sky Sports.
The Sky Sports WSL TikTok account gives fans 360° coverage of the league and granting them exclusive access to their new favourite players. Through fun challenges and interviews, along with behind-the-scenes footage, viewers will get to know the WSL's array of personalities and see the sport from a new set of angles.
Meanwhile, fans can also keep up to date with everything on and off the pitch with the return of Three Players and a Podcast, hosted by Caroline Barker.