Tokyo is a massive city full of hotels, making it simple to find places to stay. However, as huge as it is, it's also expensive. For this reason I redeemed a free night certificate during my one-night stay here in April.
It was a short stay, but the Andaz Tokyo Toranomon Hills was everything I'd hoped for. Although costly (both in points and cash), it was well worth the investment. Let's break it down in this thorough review.
Booking
I spend most of my year traveling, so I spend a lot of time in hotel beds, with hotel programs and redeeming hotel points. I have elite status with several chains, but Hyatt holds my heart. This is primarily due to the chain's excellent World of Hyatt loyalty program. I have Globalist elite status with them, which entitles me to complimentary breakfast, late check-out, free upgrades and more.
As a result of earning Globalist status, I had a one-night free night certificate valid for redemption at up to a Category 7 hotel.
I chose to redeem this at the Andaz Tokyo Toranomon Hills, which is a Category 7 property. Because room rates for the Andaz Tokyo are usually upwards of $1,000 per night, using a free night certificate became an excellent redemption.

Location
The Andaz Tokyo is centrally located within Tokyo, with tons of restaurants, shops and tourist activities at your doorstep. It's possible to take public transit, but it's also perfectly possible to walk nearly everywhere you'd want.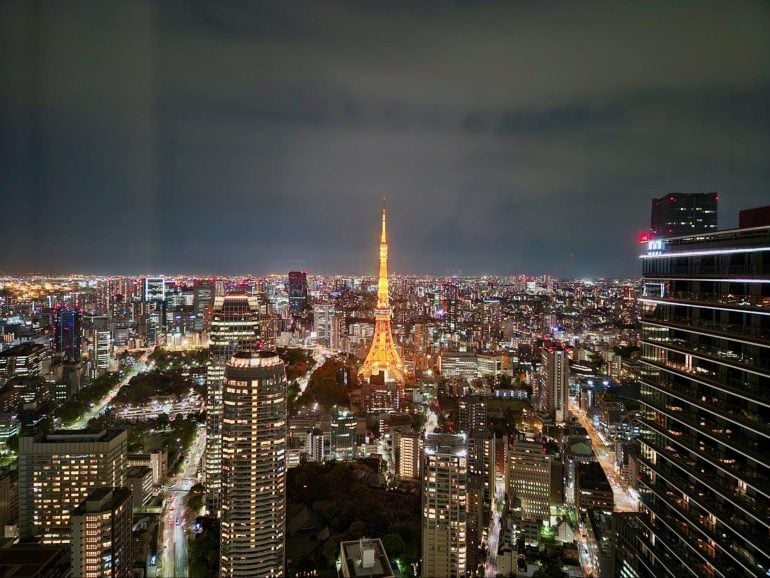 Notably, the hotel is near the Tokyo Tower and many of its rooms provide an excellent view, especially at night.
Also, Toranomon Hills itself is a large skyscraper complex of which the Andaz is only a part of. Inside there are shopping, transit and dining options, all without the need to exit the building.
Accommodation
I booked a king bed but was upgraded to a king bed with a tower view. This was a pleasant surprise as my visit was during the cherry blossom season and the hotel was packed.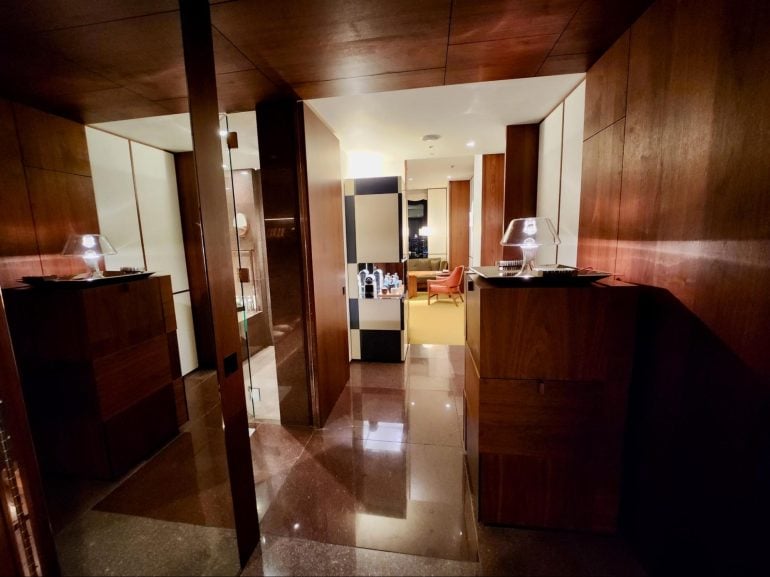 The room was uniquely designed, with deep brown wood tones giving it an earthy feel. However, it did have the unintended effect of making the foyer, closet and bathroom seem quite dark.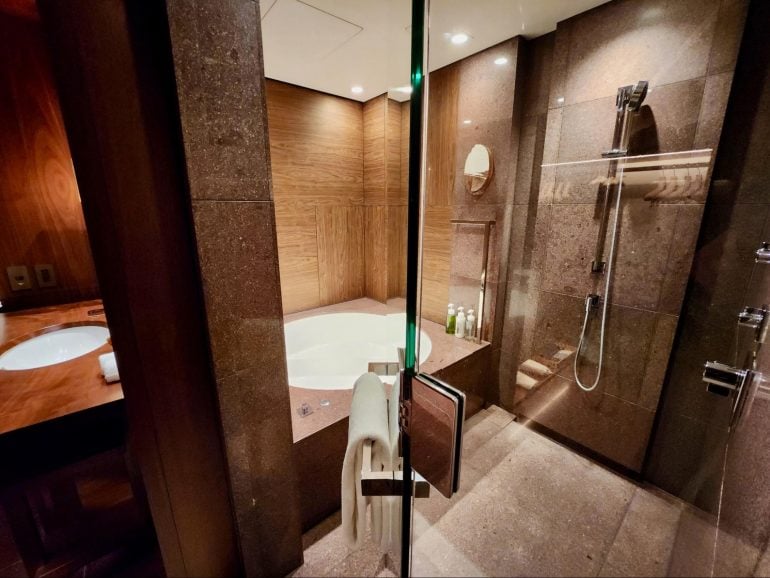 Despite this, it was easy to tell that everything was of very high quality, including the bathroom, which included both a walk-in shower and tub.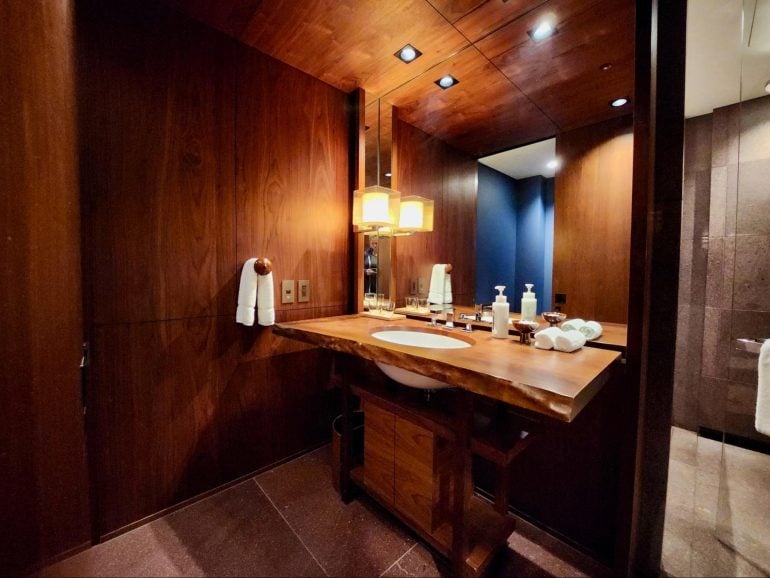 Although a lighted makeup mirror was available, there wasn't a great spot to use it. Instead, I opted to lean in extra close to the large mirror above the sink.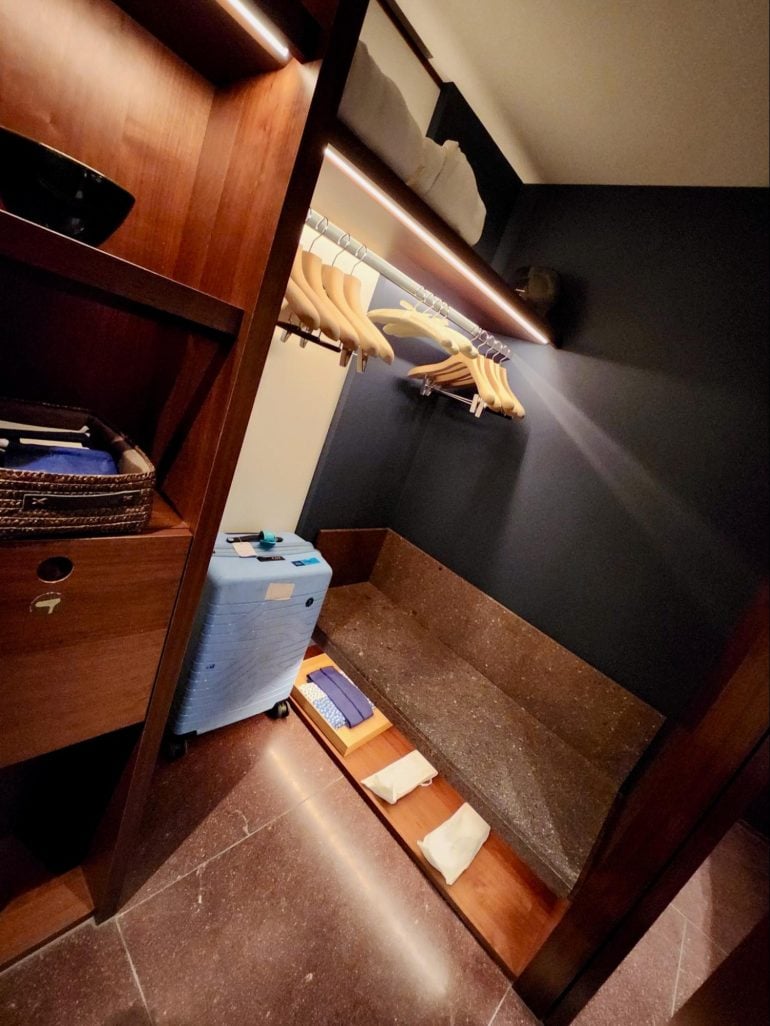 There was also a large closet, complete with slippers and robes.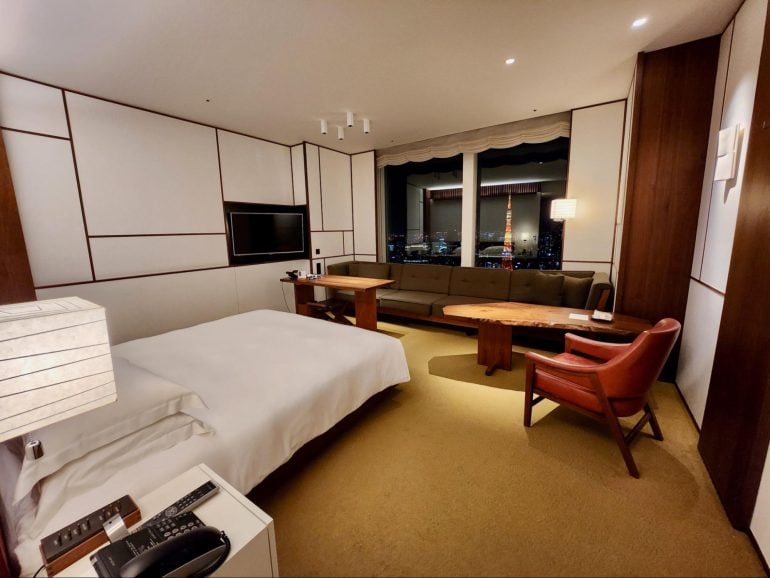 The sleeping area was located beyond the foyer/closet/bathroom combo. It featured a king bed, chair, work desk, and long sofa.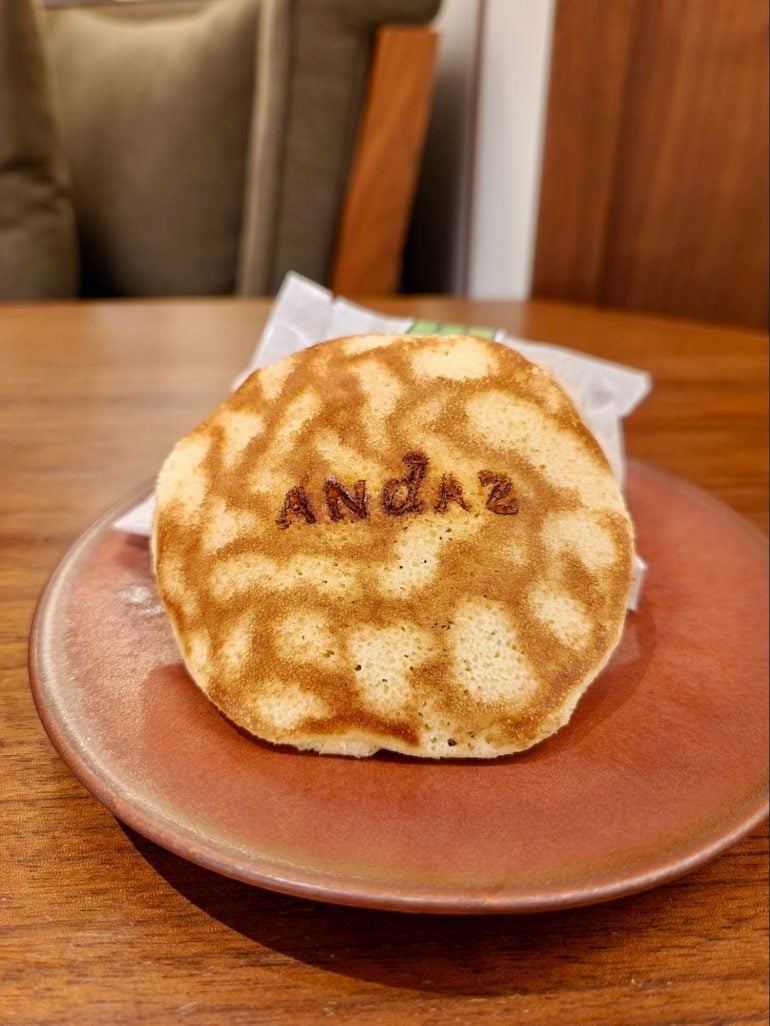 As a Globalist member, I was also given a welcome amenity. This came in the form of a red bean pastry with the Andaz logo imprinted on, which I thought was cute.
I also received two free water bottles, one sparkling and one not. I'm a thirsty traveler, so I was happy to have these on hand.
Food and beverage
I only spent one night here, which meant I didn't have a chance to explore all the hotel's different restaurants. However, I had both dinner and breakfast at The Tavern – Grill & Lounge, which becomes a steakhouse in the evening and serves a buffet in the morning.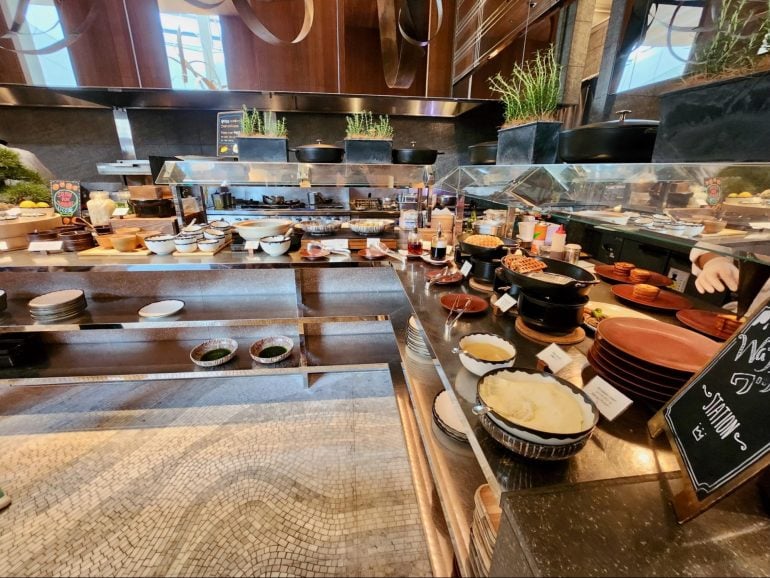 The steak for dinner was good but pricey, as expected from a hotel restaurant. Where it really shined was breakfast, which included a buffet featuring a la carte ordering.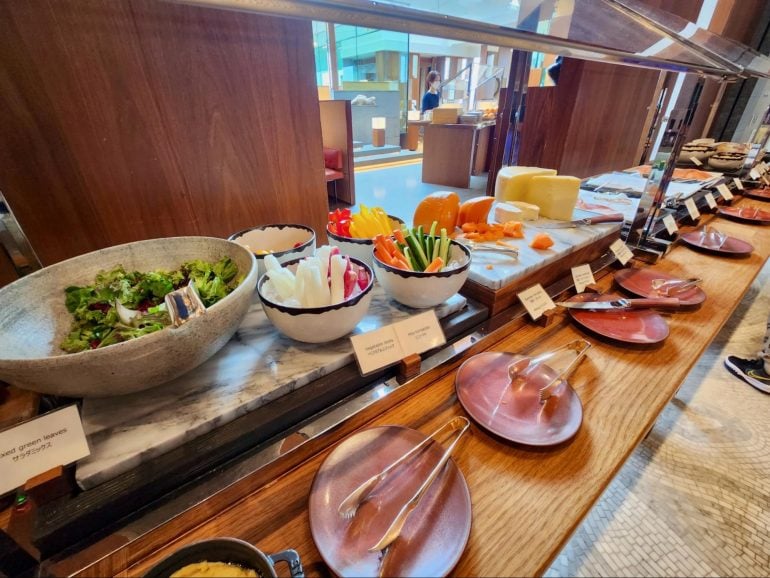 The buffet wasn't extensive, but the food was all high quality. The hours for The Tavern – Grill & Lounge are as follows:
Breakfast: 6:45 a.m. to 10:30 a.m.

Lunch: 11:30 a.m. to 3:00 p.m.

Dinner: 6:00 p.m. to 9:00 p.m.
The hotel also features a rooftop bar, fittingly named Rooftop Bar, on the 52nd floor. Here are its hours:
Sunday to Thursday: 5:00 p.m. to 11:30 p.m.

Friday to Sunday: 5:00 p.m. to 12:30 a.m.
Another restaurant choice, the SUSHI is next to the Rooftop Bar and is open daily from 5:00 p.m. to 9:30 p.m.
There is also BeBu, an option for those seeking American comfort food. However, BeBu is temporarily closed at ths time of writing.
Amenities
AO Spa and Club
The pool and the fitness center are inside the AO Spa and Club. It's a full-service spa, but access to the pool and gym are complimentary for hotel guests. I didn't have a chance to visit due to the short nature of my stay, but the facilities looked nice.
Pool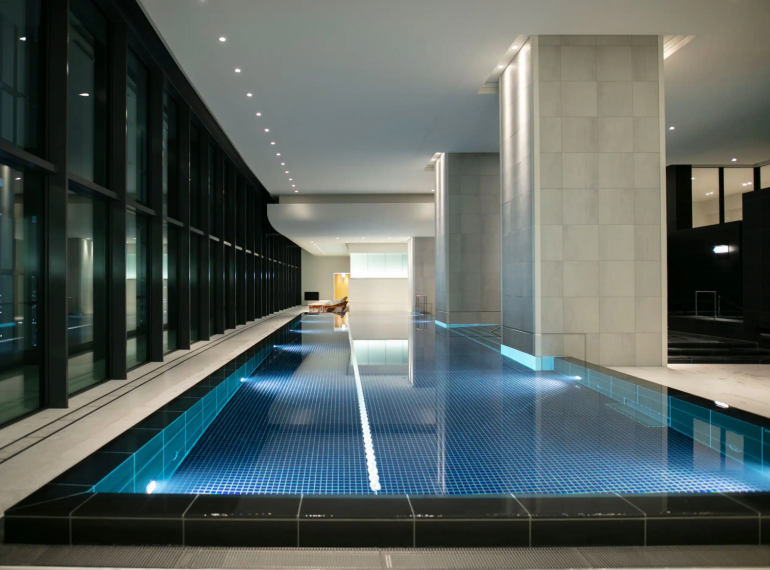 The pool is on the 37th floor and is open from 6:30 a.m. to 10:00 p.m.
Gym
The gym is near the pool and features the same hours. However, you'll need to be at least 16 to enter the gym and even then you'll need to be accompanied by an adult.
Happy hour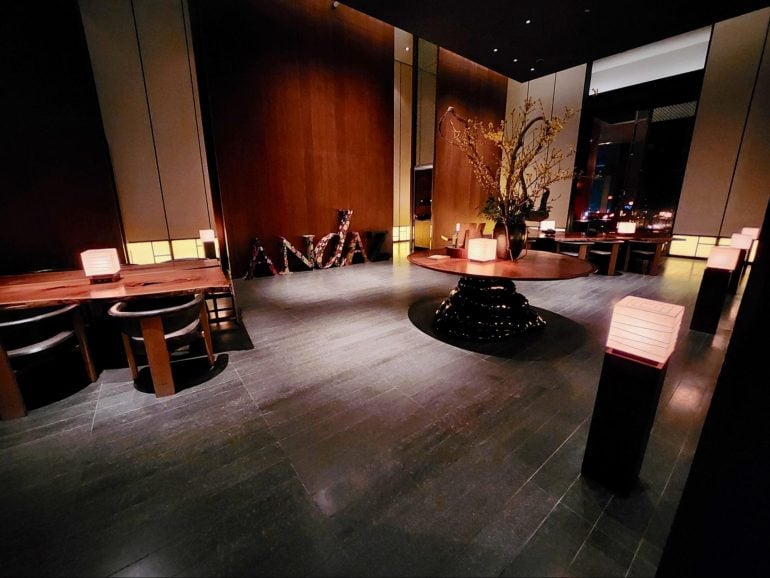 As a final note, you'll want to know the hotel hosts a complimentary happy hour every evening. This is located in the main lobby (on the 51st floor) and provides free alcohol and finger foods.
There's also live music, which adds a touch of ambiance.
How to get to the Andaz Tokyo Toranomon Hills
Tokyo has two major airports: Narita International Airport (NRT) and Haneda International Airport (HND). I flew into one and out of the other, so I can comfortably tell you to fly into Haneda (HND) if at all possible.
My flight into Narita (NRT) was easy, but that was where the joy ended. It took about an hour to get through immigration and another hour to buy tickets for the train into town. The airport train platform was packed with tourists and there was no way to purchase a ticket online.
Narita itself is also far from Tokyo proper. To get to the Andaz, you'll first take a train into town and then the underground to the hotel. I gave up on this out of frustration and ended up taking a cab once I got off the airport train. It cost roughly $10 but was worth the peace of mind.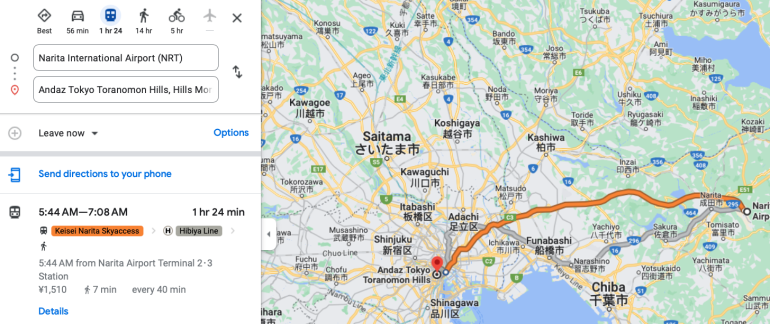 Tokyo is very well-connected with flights from the U.S., and the main reason I visited thanks to a first-class ticket on ANA that I had booked. It cost me 55,000 Virgin Atlantic points to book, though the price has since increased to 72,500 points for the same trip.
You can also use 60,000 American Airlines miles to fly JAL's business class or opt to pay cash to fly low-cost carrier ZipAir's business class for about $2,000 round-trip.
If you're looking to stay at the Andaz Tokyo Toranomon Hills
My stay at the Andaz Tokyo was great. I didn't have long to explore, but the property's convenient location and high-end amenities meant I enjoyed my time.
And thanks to the free night certificate I redeemed, I also scored an amazing deal. It's somewhere I'd definitely return.
(Top photo courtesy of Hyatt)
How to maximize your rewards
You want a travel credit card that prioritizes what's important to you. Here are our picks for the best travel credit cards of 2023, including those best for: