Man Utd have lost more than half their matches this season in all competitions, increasing the pressure on manager Erik ten Hag – Sky Sports News chief reporter Kaveh Solhekol brings us the latest on Dutchman's future, the on-going takeover of club, and what is happening with forward Jadon Sancho.
United's latest reverse, 4-3 at FC Copenhagen on Wednesday night having thrown away a two-goal lead and seen striker Marcus Rashford sent off, severely threatens their chances of qualifying for the Champions League last 16.
Meanwhile, United are languishing down in eighth place in the Premier League after a difficult start to their league campaign this season and their Carabao Cup defence ended at the last-16 stage by Newcastle after a 3-0 win at Old Trafford last week.
And that is before we even get on to the ongoing takeover saga, with Sir Jim Ratcliffe now set to purchase a 25 per cent of the club for more than £1.25bn.
So what exactly is going on at the 'Theatre of Dreams' then…
Ten Hag's future is clouded in uncertainty
Following Erik ten Hag's claims that many decisions are going against his side, we take a look at some of this season's biggest calls in Manchester United's Premier League matches.

The short term, United have got a big game against Luton on Saturday. After that, he'll have a bit of breathing space with the international break.
Driving in this morning I was listening to the radio with some United fans calling in to say it was perhaps time for Ten Hag to leave the club, the fact they've lost nine of 17 games this season – is he a man who's under pressure?
Samuel Luckhurst, chief writer for the Manchester Evening News, says there is 'no clamour' from the Manchester United fans for Erik ten Hag to be sacked in light of the side's poor results this season.

You've got to keep things in perspective. From United's point of view, they have no plans to replace their manager, and also the club is in limbo because who would dismiss him if they wanted to, when there's been the takeover saga going on for 12 months now?
Ten Hag, contractually, is on pretty safe ground too. Premier League managers have clauses which makes it very difficult to be dismissed.
His future is clouded in uncertainty, but everything at Man Utd is clouded in uncertainty.
ESPN's Mark Ogden analyses Manchester United's performance in the 4-3 defeat to Copenhagen.

Too much stick, not enough carrot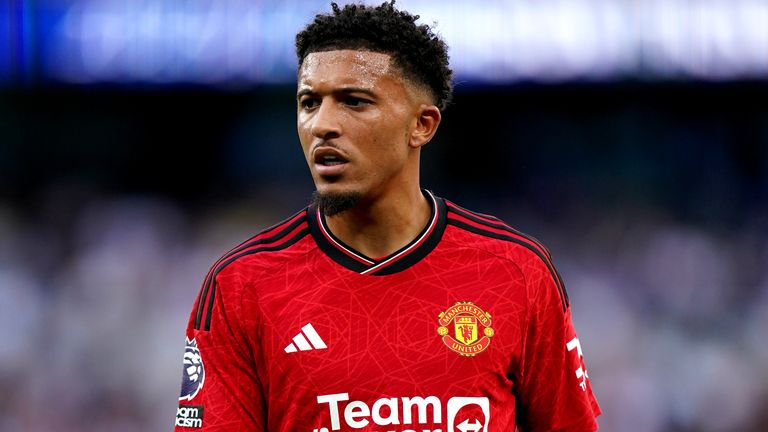 If you're someone spending more than £1bn buying a stake in Man Utd, one of the things you've probably already looked at is what is going on with Sancho.
This guy was an England player when he was at Borussia Dortmund, he was one of the best young players in the world, he's probably on more than £200,000 a week.
And yet he's eating packed lunches, he's not allowed into the first-team dressing room, all because of a standoff with Ten Hag because he won't say sorry about something he posted on social media.
Following Manchester United's 4-3 loss at Copenhagen, The Telegraph's Sam Wallace and The Daily Mail's Riath Al-Samarrai debate whether Erik ten Hag's job is under pressure at Old Trafford.

I'm sure one of the first things Dave Brailsford and Sir Jim will be doing is trying to solve this situation, which has got out of control and needs fixing one way or another.
Either Sancho leaves in January, or they'll have to get the two of them in a room together and knock their heads together to sort it out.
Also, Sir Jim will have a difficult task winning over some United fans – yet again, this weekend there will be protests at Old Trafford, with the 1958 group releasing a statement this morning saying they want a full sale only and will be protesting.
Tom Cleverley gives his reaction after 10-man Manchester United lost 4-3 at Copenhagen, leaving them bottom of their Champions League group.

They don't think someone buying 25 per cent of the club will solve their future.
One final thing I would say on Ten Hag is people are watching the performances and asking whether the players are playing for him? I think there are elements of the dressing room who have lost faith. But that happens at clubs all over the country.
The Sancho situation has created some splits in the dressing room, and one person I was speaking to said the problem Ten Hag has is that there's been too much stick, not enough carrot.
He's got this reputation as being a real disciplinarian, but with modern footballers, the stick sometimes works, but you've also got to dangle the carrot in front of them too – see things from their point of view, put an arm round their shoulder and maybe he needs to work on that going forward.
Ratcliffe & Brailsford will have their hands full at Old Trafford
Kaveh Solhekol gives the latest updates on Sir Jim Ratcliffe's attempts to buy a 25 per cent stake of Manchester United.

My understanding is a date has now been set for the announcement that Ratcliffe and INEOS will be buying a minority stake of around 25 per cent in United.
That's a very significant development, and then I think we will see the formation of a football committee which runs the club. On that committee will be Sir Jim, Brailsford and also Joel Glazer.
Gary Neville discusses the problems Manchester United currently face and joked that the club need something magical to turn things around.

Of course, they'll have their hands full. There'll be a lot of decisions to make – one of them about Ten Hag's future, the future of infrastructure works on Old Trafford, the January transfer window as well.
When it comes to the announcement of Sir Jim buying this stake, it's something which has to be choreographed pretty carefully. There were some suggestions there could be an announcement this week, but I'm not sure about that.
Maybe it makes more sense to announce during the international break, and Sir Bobby Charlton's funeral is on Monday, so they have to think about that carefully as well.
Toto Wolff responds to the rumours surrounding his interest in joining Jim Ratcliffe's Manchester United bid.

But it looks almost certain that Ratcliffe will be moving into the club very soon, and will have control of the football side of the operation, even though he only owns 25 per cent of the club.