Chelsea, Man City serve up game for the ages
FREE TO WATCH: Highlights of the Premier League clash between Chelsea and Manchester City

Reece James wrote in his matchday programme notes that Chelsea's 4-1 win over Tottenham on Monday was the craziest game he had ever been involved in. Five days later, he has a new one.
Chelsea had not even scored a goal in their last six meetings with Manchester City. This time they scored four, to follow the four they rattled past Spurs at the Tottenham Hotspur Stadium.
They end up with one point rather than three on this occasion and yet, somehow, this performance feels like a bigger statement. "You face a team like City, but it was Chelsea who wanted to win, to be protagonist," said a buoyant Pochettino afterwards.
He was proud of his side's display and rightly so. Chelsea fought back from behind three times. They had to regroup after a highly contentious penalty for City's opener and then do it all over again. And again. "The players never give up," added Pochettino.
The goals conceded shortly before and immediately after half-time showed their naivety. For all the money spent, this remains a young team with plenty to learn about game management.
Mauricio Pochettino says Chelsea's 4-4 draw with Manchester City showed why many consider the Premier League to be the best league in the world

But Pochettino preferred to focus on the way in which they ripped into City at the other end of the pitch and why shouldn't he? At times, City looked rattled. This was the first time Pep Guardiola's side have conceded four or more goals in over three years.
City played their part in the spectacle too, of course. When Haaland nudged them 3-2 up after half-time, it felt inevitable that the champions would go on to win. But Chelsea came roaring back, believing until the last and, eventually, claiming a point they deserved, from a game that will live long in the memory.
Nick Wright
Poch showing his quality in big games with Chelsea
Jamie Carragher lauds Mauricio Pochettino's results in the big games after Chelsea drew 4-4 with champions Manchester City

Chelsea won four points in 10 games against the traditional big six last season. This year, they already have six points from four games. It's the Mauricio Pochettino effect, which has helped the Blues to credit-winning draws against Liverpool, Arsenal and Manchester City, as well as that wild win at Tottenham on Monday.
"What Pochettino has done in big games is fantastic," said Sky Sports' Jamie Carragher after watching Pochettino find a way to take a point off Pep Guardiola at Stamford Bridge on Sunday.
Jamie Carragher says Cole Palmer feels like the main man at Chelsea following his stoppage-time equaliser against his former club Manchester City

"You can see him as a manager going up against [Jurgen] Klopp, Guardiola, [Mikel] Arteta and he hasn't quite got the tools they've got – I know people will say they've spent a lot of money – it's still short of what the top teams have got. But what they've done in big games is a feather in the cap of the manager.
"Chelsea have had a problem when teams have sat back but against teams who have gone for it, they've done really well.
"Not many teams cause City these many problems. Things will only improve when Pochettino puts his stamp on this team."
Absence of Stones leaves City defence vulnerable
"4-4 feels right… no one deserves to lose this game."
It was succinctly put by Jamie Carragher. As Armando Broja chopped inside Ruben Dias, the slo-mo replays showed Kyle Walker cascading into Ederson to create a heap of Manchester City players as the rain crashed down in west London.
"A good advert for the Premier League," said Pep Guardiola. The Manchester City boss had no regrets despite seeing two points washed away at Stamford Bridge in the dying seconds.
The Premier League champions are still top ahead of their high-noon meeting with Liverpool, live on Sky Sports, when this enthralling season resumes the other side of the third international break.
Pep Guardiola says he has no regrets after his side's thrilling 4-4 draw with Chelsea, which he described as a 'fair result'

For Guardiola, it is another demonstration of how nothing can ever be taken for granted. Rodri thought he had won it late on, as he has done so often, but even that story was duly re-written by Cole Palmer against his boyhood club.
City were at times imperious so perhaps the only thing tangible to draw from this back-and-forth battle is that when John Stones is missing, their defence is fallible. Not since September 2020 have they conceded four times in any game, stretching back to when Leicester scored five at the Etihad.
This is what happens when you have the quality to go toe to toe with the Catalan's heavyweights.
Ben Grounds
Fortress Anfield gives Liverpool hope of another title tussle
FREE TO WATCH: Highlights from the Premier League match between Liverpool and Brentford

After a couple of below-par performances on the road, Liverpool returned to their dominant best at Anfield on Sunday, making it nine straight wins at home at the start of this season across all competitions.
In the Premier League, it's six victories in a row at their famous ground. It's a streak at the start of a new campaign they've managed just twice before in the competition. The first was in 2019, to kick off their charge to the title. The second was the following season… when everything ultimately went spectacularly downhill.
But while history suggests extrapolating this start to make a prediction on Liverpool's season is dangerous to do, there is a conviction in Liverpool's performances at Anfield this term which convinces. They've won each of those nine games by at least two goals. That's their joint best-ever run of wins of that nature there.
Of course, Mohamed Salah's form is a driving force in this. He's scored in each of those first six Anfield league games, another record to add to his pile of landmarks.
Intriguingly Liverpool go to Manchester City after the international break. There will be no home comforts there.
But after struggling at Luton last weekend, Liverpool's win over Brentford has put them in the title race and given them confidence going into that titanic clash. A refreshed squad, a rebooted era, but the familiar Anfield factor has given them the platform to challenge again.
Peter Smith
JWP continues to show Southgate what he's missing
FREE TO WATCH: Highlights from the Premier League clash between West Ham and Nottingham Forest

Death, taxes and James Ward-Prowse the notable absence from the England squad. It was a familiar story when Gareth Southgate announced the list for November's Euro 2024 qualifiers against Malta and North Macedonia earlier this week.
What more does the West Ham man need to do to get a first crack since June 2022?
His two assists in the Hammers' thrilling 3-2 win over Nottingham Forest on Sunday – which played a crucial role in winning the game – took his tally to 10 in just 16 games since joining the club from Southampton in the summer. The numbers are exquisite, yet they have brought little personal reward for the 29-year-old, other than in a pocket of east London.
David Moyes was questioned about the continued exclusion of one of his star players on the international stage.
"I'm quite pleased because it means he's going to get some rest this week!" he said. "I think he'll always be thought about by Gareth Southgate, but Gareth's got so many quality players he can choose from. James is sitting here waiting if he has any injury problems."
For now, Moyes is the sole benefactor of Ward-Prowse's passing and set-piece brilliance. But if there's any justice in the world, it will not be long before the midfielder earns what has become an elusive 12th England cap.
Dan Long
'Outstanding' McGinn delivers captain's performance in Fulham win
FREE TO WATCH: Highlights from the Premier League clash between Aston Villa and Fulham

Aston Villa's John McGinn produced a captain's performance in the 3-1 win over Fulham.
His display, which included a fine goal to double Villa's lead and saw him play a big part in their third, particularly impressed ex-Birmingham striker Clinton Morrison.
"McGinn has been the best player on the pitch," he told Sky Sports News. "He has been outstanding in the middle of the park. He's absolutely run the show."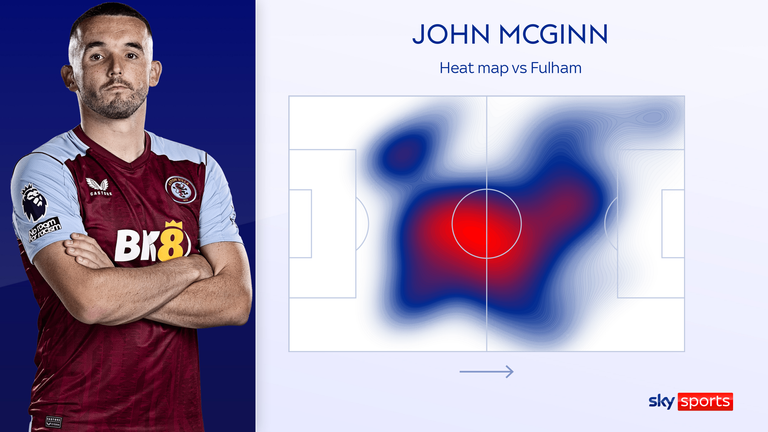 The 29-year-old had seven successful dribbles in the victory – the most of any player – as he constantly caused problems for Fulham, with Joao Palhinha enduring a torrid time against McGinn.
The Scotland international got the better of Palhinha for his goal as he outthought him to then fire in superbly from outside the box.
The Portuguese midfielder's McGinn nightmare was then completed in the second half when he was finally booked for bringing down McGinn, who won seven fouls in the game – more than any other player. He also topped the charts for duels (22) and duels won (15).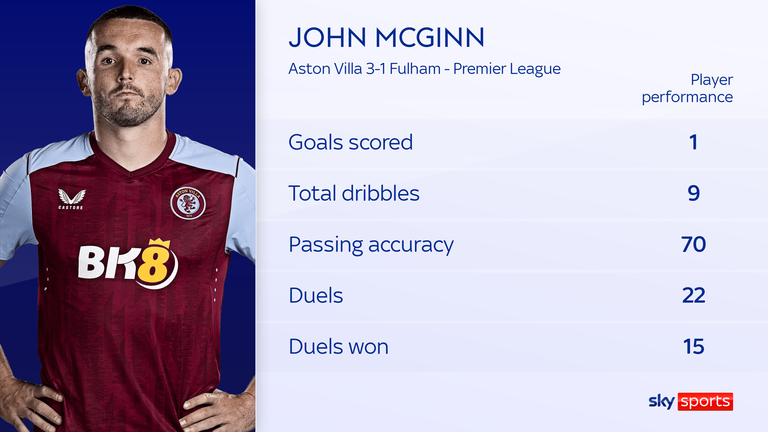 McGinn has been key in making Villa Park a fortress having started in all of their 13 consecutive home league wins.
"The fans love him a lot," Villa boss Unai Emery said after the Fulham win. "It's fantastic because he's responding on the pitch and connecting with them and always playing with the game plan we have. He's adding goals.
"He's a very good example for everyone."
Now Emery's midfield general will be aiming to take his sensational form away from home after the international break to dominate a Tottenham midfield without the suspended Yves Bissouma in a crunch top-four clash at Spurs on November 26, live on Sky Sports.
Declan Olley
De Zerbi frustrated as dropped points mount
FREE TO WATCH: Highlights from the Premier League match between Brighton and Sheffield United

The remarkable progress Roberto De Zerbi has overseen at Brighton in just over a year in charge makes it easy to forget that the manager failed to win any of his first five games in charge.
A period of instability was understandable as the Italian moved from Shakhtar Donetsk to replace Graham Potter mid-season, and it was quickly overcome as his methods took hold.
Those methods led Brighton into Europe but, as many have done before them, the south-coast side are now finding that balancing the demands of Premier League and European football are easier said than done.
Surrendering their lead against Sheffield United means Brighton are now without a league win in six games – the longest period of De Zerbi's time in charge. At their best, the Seagulls would have had the game wrapped up at half-time – but in their current form, they offered their visitors a route back.
De Zerbi cut an animated figure at the Amex and another worry will be that Brighton are yet to keep a clean sheet in the Premier League. In fact, they are now the only side since Liverpool in 1966/67 to both score and concede in their first 12 top-flight fixtures.
There's work for the manager to do as his players head off for yet another international break.
Joe Shread