Every year, it feels like the holidays creep up on us, and all too soon, you're scrambling to find gifts for everyone on your list. There's no shame in some last-minute shopping, but waiting with bated breath for gifts to finally ship and make their way to you is the kind of added stress you don't need this time of year. If you've ordered anything online recently, you know that it often takes several days for your items to ship, let alone arrive on your doorstep. So if you're on a time crunch for your holiday shopping, Amazon Prime-ing your gifts is the way to go.
In the midst of a busy season full of work holiday parties, friend gift exchanges, and family gatherings, you can't beat the convenience of two-day (or less!) shipping. And luckily for us, there are thousands of great gifts on Amazon with super-fast shipping. If you're looking for gift ideas that can get to you ASAP, keep scrolling for the best gifts on Amazon Prime.
The Best Gifts You Can Amazon Prime
Amazon
For anyone who loves candles, a candle warmer lamp is the gift that keeps on giving. It is safer than an open flame, gives off a stronger fragrance, and makes your candles last way longer.
PAVOI
The PAVOI brand is one of Amazon's best-kept secrets for jewelry that looks expensive but is actually astonishingly affordable. This zodiac sign necklace is the kind of piece they'll want to wear every day, and it won't blow your whole gifting budget in one purchase.
Amazon
Ditch the corkscrew for good with an electric wine opener that can uncork a bottle in seconds and lasts for up to 30 bottles on a single charge. Plus, the design is so chic, you won't mind keeping it on your bar cart 24/7.
Amazon
A Kindle is every book lover's dream gift. We love this model in particular because it has wireless charging capabilities and a display that auto-adjusts the brightness to give you the best reading experience, day or night.
Simple Modern
The Stanley 40 oz. tumbler is obviously hugely popular, but ask our editors and we might just convince you that this alternative from Simple Modern is even better. It's completely leakproof, dishwasher-safe, and cupholder-friendly. Plus, it's way cheaper than the Stanley version and you can get it personalized with a laser-engraved name.
Ember
We all know that one person who's constantly microwaving their coffee because they can't seem to drink it while it's actually warm. Whether they're a new parent, glued to their desk at work, or just forgetful, this mug warmer will ensure their beverage is always waiting for them at the perfect temperature.
Amazon
An under-desk treadmill is the home office essential they didn't know they needed. For anyone who works from home, this gift will be a total game-changer.
Apple
If you have a loved one who has yet to invest in Apple AirPods for themselves, this is a no-brainer gift idea. They'll use them every day and think of you every time they do.
Amazon
Perfect for that person who's always cold, this towel warmer will ensure they always have a warm, cozy towel to wrap up in as soon as they step out of the shower or bath. Hot tip: It's also great for warming up throw blankets before snuggling up on the couch.
Dyson
Dyson is the gold standard for vacuum cleaners, and this cordless model is even more impressive since it's so compact. It makes an especially great splurge gift if you and your siblings on going in on a gift for a parent.
Bala
For the fitness queen on your list, these weighted bangles will take any workout—from pilates to boxing to walking—to the next level.
Amazon
This TikTok-famous blanket is popular for a reason. The material is ridiculously soft and the on-trend checkerboard pattern adds a fun accent to any room. Basically, it'll give you Barefoot Dreams-level softness on an Amazon budget, and that's a gift idea we can totally get behind.
Amazon
This cookware set is perfect for that person who just moved into their own place for the first time or who wants a more aesthetically pleasing upgrade to their current cookware collection. In addition to the gorgeous creamy white finish, this set features a removable handle system that makes cookware storage easier than ever.
Amazon
With a velvet exterior and tons of compartments inside, this travel jewelry organizer will keep all their favorite pieces safe and tangle-free on the go.
Amazon
This candle accessory kit will help them take care of their candles so they burn cleaner and last longer.
LANEIGE
Sure, you could easily pick up this internet-famous lip mask on your next Sephora run, but if you buy it from Amazon, you get the benefit of super-fast Prime shipping. Last-minute shoppers, we're talking to you!
Amazon
Grab these cute and cozy slippers for your Gen Z cousin or little sister who (you hate to admit) is way cooler than you.
Intelligent Change
Designed to help you practice gratitude and mindfulness with just five minutes a day, this journal makes a thoughtful gift for that friend who's all about manifesting their goals.
Fujifilm
There's nothing like being able to print your photos straight from the camera. This vintage camera-inspired version of Fujifilm's Instax camera is especially chic and makes an ideal gift for that loved one who's constantly snapping pics.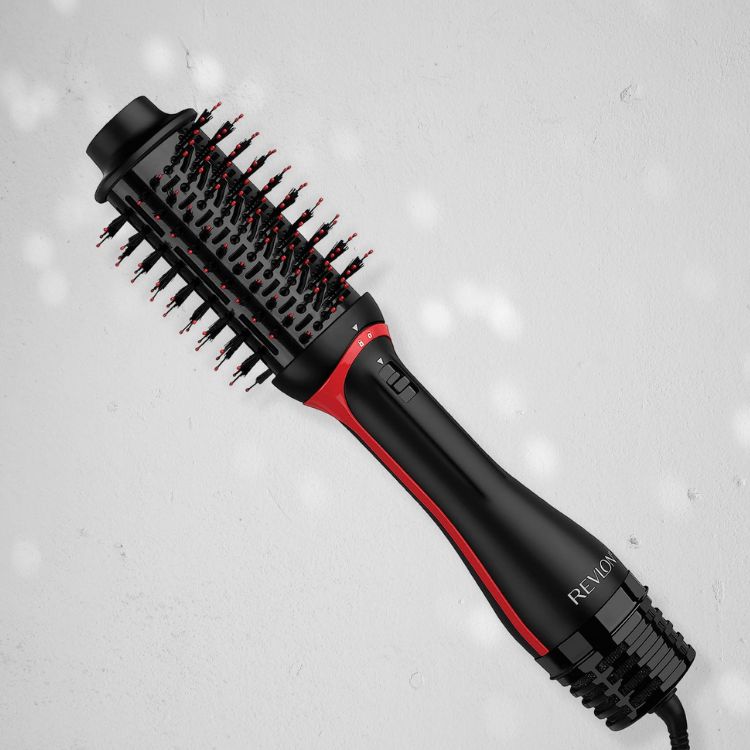 Revlon
This blow-dry brush has nearly 300,000 five-star ratings for a reason. It can cut your drying and styling time by half and help you easily achieve a salon-quality blowout at home.
Amazon
With an extra-large size and an anti-slip coating, these claw clips are sturdy (and stylish) enough for all types of hair.
iRobot
You can't get much better than a gift that does the cleaning for them. This robot vacuum can easily navigate from carpet to hard floors and even into tight corners and edges.
Amazon
Upgrade their self-care routine with a gua sha and jade roller set that can help reduce facial puffiness and make skin feel more lifted.
Amazon
Complete with three different sizes of packing cubes, a shoe bag, a hanging toiletry organizer, and a cable case, this set is enough to turn even the most disorganized suitcase into an organized dream.
Amazon
For the person who loves to host, gift them a set that comes with everything they need to put together the ultimate grazing board, including a wood serving board, cheese knives, ceramic dip bowls, and a mini book of charcuterie board inspiration.
Amazon
For the person who practically lives out of their car, these car trash cans fit neatly inside cupholders to keep their vehicle tidy while they're on the go.
Amazon
These editor-favorite headphones have all the sound quality and noise-cancelling capabilities of more expensive brands, but at less than $100, the price cannot be beat.
Amazon
Designed to inspire meaningful connections between players, this party game makes an excellent addition to any board game collection. You might just want to break this one out as soon as your gift exchange is over!
Amazon
Movie nights will never be the same. This mini projector can project onto a screen size of up to 200 inches, so you can easily bring that movie theater experience to your living room.
Amazon
You may have seen this cute mushroom-shaped lamp elsewhere on the internet, but this version from Amazon is the cheapest option we've found. The miniature design (it measures less than 8 inches tall) will look absolutely adorable on their bookshelf, nightstand, or desk.
Amazon
Amazon has something for literally everyone, but if you can't find the perfect gift for your loved one, let them pick it out for themselves. You can't go wrong with a gift card to ensure they end up with something they love.
The Everygirl's 2023 Holiday Gift Guide